Steel Ocean Going Ketch - Sold

A 44 foot steel ketch Designed by Bruce Askew
built in New Zealand in 1983.
Length LOA 43'
Length LWL 36'.6"
Beam 13'
Draught 6.8
Displacement 20 ton

If what you want from your yacht is safety and security, comfort and speed, then this may be the boat for you. Ocean Odyssey is built very strongly. She is round bilge ,2" thick steel at keel level rising to a minimum of a quarter inch thick at the deck level. She has a watertight door behind the peak for extra security in the unlikely event of a collision at night. A wonderfully strong deck rail arrangement and lots of equipment. This boat has been sailed single handed and has a radar alarm for easy watch.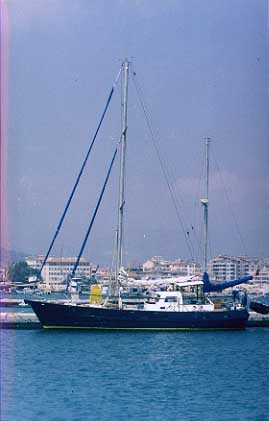 Accommodation and equipment.
She has accommodation for 6. A double aft cabin, a double bunk arrangement in the fore cabin and two more bunks in the saloon. All bunks are 7'. In the forepeak there is a workshop station and chain locker. The heads are tiled. and there is a shower and hand basin. There is also a hand basin in the aft cabin. Hot water is supplied to all outlets using one of 3 heating methods. For the winter in harbour there is a pot bellied stove currently burning charcoal, then there is an electric and engine driven system.
There is a brass clock, brass barometer and large gimballed brass oil lamp suspended over the saloon table.

The galley is equipped with a S/S kerosene 3 burner cooker with oven, S/S double sink unit, engine driven freezer, 5 drawers , large drawer, various other lockers and work surfaces ,and these are tiled or stainless steel and the galley contains stainless saucepans and all equipment to happily feed 6 people. The vessel is carpeted throughout.
She carries 1200 litres of fuel and 1200 litres of fresh water. She also has a Holding tanks with macerator. and a Deck wash pump, driven off the engine.
She has Roller reefing to the Genoa and staysails and her sails are a Main, mizzen, Yankee, jib and large Genoa (not roller reefing).
The mainsail is Brand New (Nov 1998 )All are serviced yearly. There are 4 sheet winches in the cockpit and 3 winches on each mast. The steering wheel cover, main and mizzen covers and 2 sun awnings are all in blue canvas and she has a nice windscoop (1997)
She has an Electric windlass with 65 metres of 10mm chain (1995) and 3 Anchors, the largest is a big CQR, then a Bruce, + smaller CQR.
Other features include Fixed 3 bladed propeller, S/S pushpit and pulpit, Cap and toe rails in Iroko with 2 gates, one on either side, Anodised aluminium pasarrelle, wheelhouse with canvass extension making an extra ' living room' in the cockpit, Cockpit seats are teak, teak decks (1 inch thick) and an engine driven deck wash pump, The Iroko Deck box converts into a table , An under deck locker at the stern contains a petrol generator Honda (1996) 3 directors chairs, 8 fenders. and space for more, S/S BBQ, B+D workmate (1996) and more.....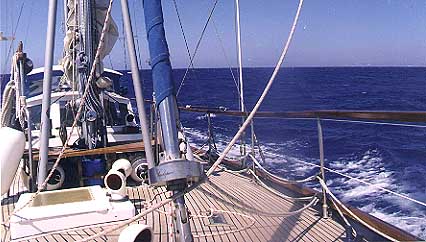 She has a Perkins 4236 Engine housed under the cockpit, an autohelm 3000 autopilot (1998) Koden radar, seavoice 550 VHF , Kenwood SSB Transceiver, GPS Shipmate RS 5500 (+ ancient spare), navtex (1996), echo sounder, Honda 450 petrol generator, tank tender for fuel tanks (1998) 60 Rmp 2 bank battery charger (1996) Batteries new in 1997.Mac power 240v AC output inverter,
2 large fire extinguishers (1 x1998), and all the rest of the equipment you would expect to find on an ocean going yacht.
Her fibreglass tender has its own derrick of stainless steel with a winch for hoisting and lowering the outboard.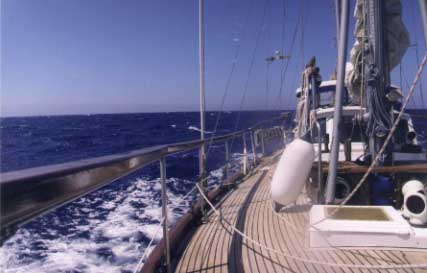 Ocean Odyssey is Duty paid in Cyprus, which means that she is able to stay here for as long as you wish.
Sold
Click the above images to see some interior pictures
Construction : In excess of Lloyds and M.O.T's specifications.
Round bilge.
Watertight bulkheads for'd and aft

Mild ship quality steel. Grade A (SIS 14-12)
3mm Deck, all mountings and stress areas reinforced to 6mm.
12mm keelsides
50mm keel plate shoe
3 and 5mm Cabin, dodger etc
3500 kg cast lead ballast in keel (keel construction structurally stronger
than normal with corresponding less ballast)
50x50mm L toe welded frames and deck beams. All ports and dodger window
12mm armoured glass.
Hatches in cast alloy frame with 18mm Perspex.
Decks in Burma planks 2" x 1" laid to the curve of the ship. on rubber
bedding.

Sail area 1100 -1200 sq. feet.

Layout plan. Click above
If you wish for further details on this fine yacht, Contact us here

[ Harbour ] [ Contact Us ] [ Crew List ] [ Delivery Classifieds ] [ Charter Businesses ] [ Insurance Quotes ] [ Yacht Delivery ] [ Professional Crew ] [ Sailing Links ] [ Sails for Sale & Wanted ] [ Terms and Conditions ] [ Sailboats ] [ Yachts and Boats for Sale ] [ Yachts Wanted ] [ Sold Archive ] [ Currency Conversion ] [ Awards ] [ Feedback ] [ Shipwright ] [ Formula Boats - New motorboats and speedboats. ]