UFO 34

Design: Colvic UFO 34-Total refit 2002
Length: 10.5m
Beam: 3.35m
This blue water sailing yacht is available for skippered day charter in Larnaca bay, and what a treat.
We tailor the day to suit your wishes. We can keep sailing, stop for swimming in deep water (very different from swimming off a beach ) and anchor by the reefs at Cape Kiti for snorkelling. Lunch is served at anchor.
We can go for thrills outside the Bay in the fresher breeze of the afternoon ( or keep things gentle ). You can be involved in the sailing of the yacht as much as you please, or not at all - it's up to you.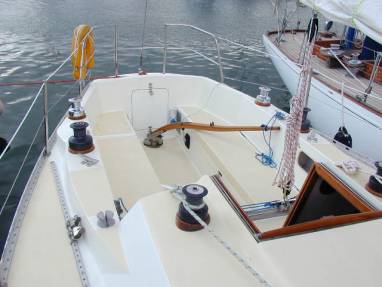 The day begins from Larnaca Marina at 10:30 and ends at about 16:00.

Lunch and drinks (wine, beer or soft drinks) are included.

Price: 190 Cy Pounds all inclusive.

Price without lunch: 175 Cy Pounds.

Maximum capacity is five persons.

To Charter this yacht in Cyprus, please e mail us here

[ Cyprus yacht charter - sailing and motor boats ]
[ Fun Cat Charter ] [ Sail Away Cat ] [ Troika Sailing ] [ Angel 88 ] [ Rio 850 ] [ UFO 34 ] [ Sun Odyssey 40 ] [ Phantom 65 ] [ Bavaria 47 ] [ Taiti 75 ] [ Princess 40 ] [ Jeanneu 42 ] [ Sun Fizz 40 ] [ Sea Ray ] [ kaiki 44 ] [ Watersports ] [ Bavaria 44 ] [ UFO 34 ] [ Azimuth 52 ] [ Azimut 68 ] [ Camper & Nicholson ] [ Jeanneau 37 ] [ Bowman 36 ] [ Flash Royal ] [ Catamaran Prive ] [ Schooner 60 ] [ Mahe 36 ] [ Mermaid ] [ Charter form ]